Introduction: Why Key Big Data Market Players should positively target U.S. based healthcare sector?
Presence of various healthcare research institutes, medical advisories, highly advanced hospitals and much more in one of the world's leading economies opens up wide windows for healthcare oriented unstructured data to pile up every year. Adding to the similar concept, US healthcare value surpassing US$ 3.6 trillion post COVID-19 which is approximately US$ 11,237 per person shows the potential investment they hold for any technology able to benefit their healthcare sector.
Also Read: How Can RPA Help In Healthcare?
Adding to above mentioned point, poor quality and highly unstructured data costs around US$ 3 trillion to U.S. economy on yearly basis and this trend can also be seen in the data associated with their healthcare sector. Therefore, accounting to the high demand of data governance in healthcare and currently medical failure occurred due to COVID-19 impact associated with U.S. medical hub, exceptional business opportunities as present in this country.
Also Read: The Impact of Artificial Intelligence in Ophthalmology
Attributed to the above-discussed factors, it is projected that demand of big data in US medical infrastructure will be surpass major other healthcare countries in terms of CAGR, which is poised to grow at 18.9% over the next decade.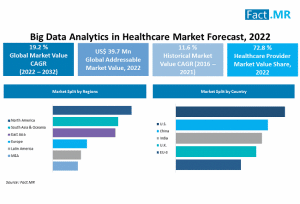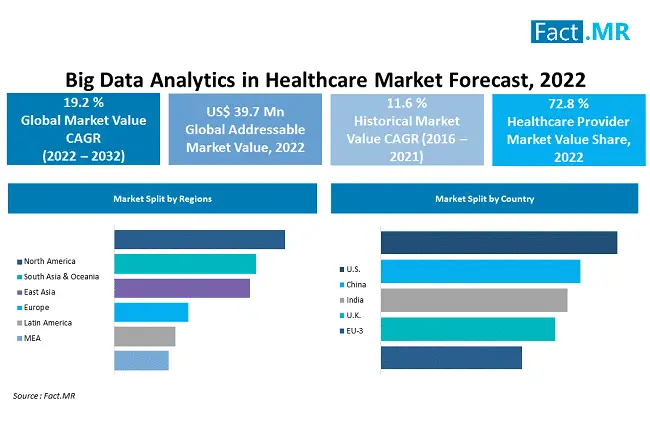 Big Data Analytics in Health Care Market Key Segments
By Spender Type

Healthcare Payer
Healthcare Provider

By Tool Type

Data Warehouse Analytics
Financial Analytics
Production Reporting
CRM Analytics
Predictive Analytics
Visual Analytics
Risk Management Analytics
Supply chain Analytics
Test Analytics

By Application Type

Access Clinical Information
Access Operational Information
Access Transactional Data
Other Applications

By Deployment Type
Also Read: Artificial Intelligence and Otolaryngology.
Competition landscape: Top Companies of Big Data Analytics in Healthcare Market
Market players in big data analytics in healthcare business have mainly opted for growth oriented strategies which includes data managing software branding and continuous technical advancements in big data management. These strategies are helping big data players to expand their regional footprint and garner maximum market share thus providing competitive advantage on global level.
Fact.MR has provided detailed information about price points of top manufacturers of big data analytics in healthcare positioned across regions, sales growth, production capacity, and speculative technological expansion in the recently published report.
In August 2020, IBM revealed their highly advanced version of microprocessor named as Power10 processor that can handle extensive data managing workload.
Microsoft, a leading software brand unlocked their health data management power on October 2020, and provides service by name of Microsoft Cloud for Healthcare product.
Similar, recent developments related to companies offering in big data analytics technology have been tracked by the team at Fact.MR, which are available in the full report.
Also Read: Artificial Intelligence in Healthcare.